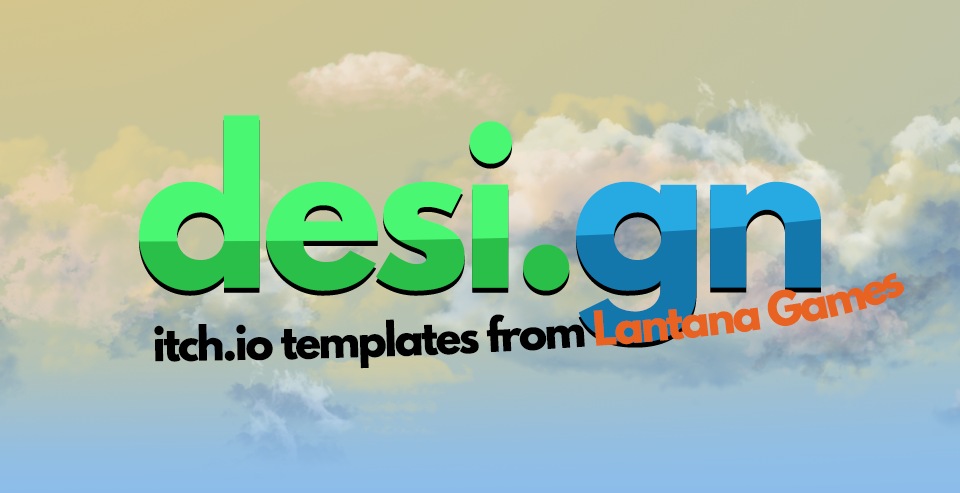 desi.gn - itch.io Page Templates
Game developers! We know that graphic design is time consuming work. We know you think your Ludum Daré projects may not need a glossy coat of marketing spitshine. But at Lantana Games, we know that when it comes to marketing, presentation is nine tenths of the law.
That is why we are proud to offer desi.gn, a collection of graphic templates specifically designed for use with itch.io pages for games, music, books, tools... whatever you've made! All the templates are packaged together into a convenient collection of images, and include text files with some extra instructions for making your itch.io pages great!
Both JPG and PSD image files are included. Some Photoshop effects may not work in other programs such as GIMP and Paint.net, but fully rasterized layers are also included for such a case.
As indies ourselves, we know how tight budgets can be, and especially when you are jamming something out, how little money you actually want to spend. We completely sympathize. That's why we're excited to help you spice up your itch.io page at a fair price.
For the minimum price of $20, you'll get a pack of 5 Premium itch.io templates, plus 5 animated horizontal rulers. Each of these templates are distributed under a Copyleft license, so you may modify them as you please!
FutureGrid: A great template for games of all types, but particularly for ones with an action-packed or retro feel. Customize the glow colors!
Gutenberg: A paper theme designed for books, text adventures, and interactive fiction. Customize the text!
Questmarker: An epic theme for adventurous games. Draw your own map!

Mandala: A colorful theme for graphics packs, tools, creative games, or anything of an artistic nature. Change the colors for trippy effects!
Nebula: A painterly outer space theme, great for scifi or educational games. Add your own ships, planets, and more!

These templates come in JPG and PSD format, perfect for immediate upload to itch.io or modifying to include your own logos and art (which we suggest you do). The PSD files are layered and include handy guides to help you get the most out of a theme.
We noticed a sad trend among itch.io games: lack of presentation. This site is a haven for creativity, and it's almost impossible to make that creativity shine through when a game's page has no color. We want to help, and we know you don't want to waste time or money.
Here are 5 great reasons why you should spice up your itch.io page with the desi.gn template pack:
The work's done for you! All you really have to do, if you want to, is slap your game's logo or title onto the banner image. But if you really want to go all out, every element of every theme is easily modifiable with a few effect adjustments or color fills.
It's cheap! $20 for 5 backgrounds, 5 banners, and 5 animated horizontal rulers? That comes out to $1.33 an element. Plus, there are no usage limits, so you can use the pack on as many games as you'd like.
It's educational! As a studio focused on teaching game development, and a creator of educational products, we guarantee that the guides included in the desi.gn pack will have your page looking great in 5 minutes. Plus, if you don't like what's included, it comes with a handy blank template for making your own themes!
No one likes a black and white page! 25% of all itch.io projects have no - or minimal - design additions. Comparitively, only 10% of the Recommended Games lack zazz. Gamers are much less likely to spend time on a page with no thought put into it than a page that properly compliments the project.
It supports us and indie game development as a whole! Like you, we're starving indies. We are an educational game development studio, working with students to help them become great developers. We want to help you too! The desi.gn pack is here to do just that, and with your help, we can bring just a bit more color to our world.
What're you waiting for?? Click that Buy button!

Purchase
In order to download this Templates you must purchase it at or above the minimum price of $20 USD. You will get access to the following files:
itchioTemplates.zip
97 MB